About GolfStinks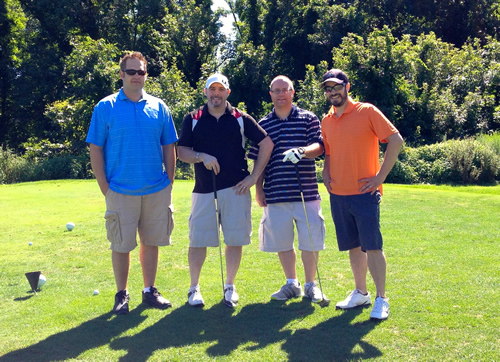 The GolfStinks crew from left: Stinky Golfers Pete, Chris, Tom & Greg

Golfers, has the phrase "golf stinks" ever crossed your mind after hitting a bad shot or having a poor round? Of course it has! But there's always that one awesome shot or that one great round that keeps us coming back for more, right? The thing is, you don't have to be good at a sport to love it.

For too long, average hacks (who represent the vast majority of golfers) have been searching for a community in which they can feel comfortable. A community that doesn't pass judgment; that doesn't push zany, game-improving equipment on you; and doesn't overwhelm you with golf instructional tips that typically leave you feeling more confused and frustrated.

How do you get better at golf? You play. All the time. Constantly. For many of us, this is simply not a viable option. Golf isn't our job; it's our passion, our hobby, our release. It's our chance for camaraderie with friends or to just get away from our everyday lives. Golfstinks' job is to help you get the most fun out of this great game as you possibly can. But how?

First, we have great content to peruse through that really appeals to the average golfer. The wildly popular blog (which launched in 2009) features articles that don't necessarily focus on the PGA Tour, but rather on content a true weekend hack could appreciate - from funny golf stories to hilarious (and sometimes serious) golf observations, the Golf Stinks blog will keep you entertained throughout the week!

In addition, we have a social aspect to our site! We invite you to join a growing community of likeminded golfers on a platform unlike any social media site you've experienced. Facebook and others try to manage your life which, let's face it, is busy (have you looked at your wall lately)? Escape with Golfstinks. We'll just manage your golf life - where you're free to relax and immerse yourself in golf. Golfstinks makes it easy for golfers to share your "golf bio," course reviews, stories and photos. We welcome all skill levels with open arms and make them remember why they love golf in the first place. And talk about a course database...we have more than 18,000 course pages for you to explore in the U.S. alone!
Oh, and by the way: Golfstinks is 100% free!

Join the Golf Revolution now at http://www.golfstinks.com/user/register.


Keep connected with Golfstinks:
Join! (it's free)
Golf Stinks Blog
Golfstinks on Twitter
Golfstinks on Facebook
Golfstinks on LinkedIn
Average Joe Golf Glossary
Golfstinks Merchandise
Questions and Comments